by Philip Yancey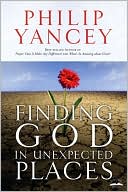 So where do you expect to find God in this sinful world of ours? First answers that I would think of is at church, bible study, wilderness, or on facebook with my christian friends and family. At least I would think that until I read this book. Now I know the places that God shows up are the places you would least likely think of. Places like Russia, China, and prison.
In this book Philip Yancey takes you through 49 short chapters on where you can find God in this big world of ours. Some chapters are about countries who have or used to have oppressive governments. Some chapters are on places we are familiar with like workout gyms. Some are on letters Philip receives from people around the world who have read his books and been changed by them. And some of the chapters are on moments in history where people have taken a stand in peaceful demonstrations against their governments and have won their freedom.
The chapter on prison fellowship really moved me. At the end of this chapter Philip writes about a maximum security prison in Zambia that has the worst living conditions you can think of. The prisoners though have a heart for God even though some of them will be executed soon.
Philip has a very good writing style. It is easy to understand, but he does use quite a few words I don't know so I would read this one with a dictionary close by. He also refers to other books quite a lot. Most of these are classics that I haven't read. If I have read them it might give more meaning to some parts of the book. He does quote from the books the parts he is talking about though. Definitely not the last book I will read of his.
Plot -
Good plots overall, most he didn't make up but was written well - A
Characters -
You get to know some people in this book and makes you want to meet them - A
Writing Style -
It is written well, but keep a dictionary nearby - B
Emotions -
Lots of emotions are brought out in this book - A
Overall -
Great book worth reading and referring to. I borrowed it from the library, but I am planning on buying it - A